Ohio's 2023 Opiate Conference - Information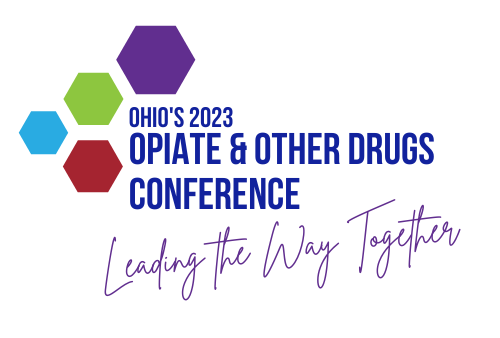 The Ohio Association of County Behavioral Health Authorities Foundation, in partnership with the Ohio Department of Mental Health & Addiction Services and the Ohio Department of Rehabilitation & Correction, will host Ohio's 2023 Opiate and Other Drugs Conference on June 5-6, 2023 at the Hyatt Regency in downtown Columbus. This will be Ohio's 13th Opiate Conference. This two-day conference will focus on opiates, stimulants, and other substance use disorders, specifically on efforts related to prevention, education, intervention, treatment, recovery, family supports, community engagement, and more.
In an effort to conserve paper, this year materials for keynote presentations and breakout sessions are available to download at the following links.
Ohio's 2023 Opiate and Other Drugs Conference: Leading the Way Together -
Conference Program
(All registered attendees will receive a printed program at the registration desk upon arrival.) Keynote Presentations:
June 5th Morning Session - Director Lori Criss (
PPT
)
June 5th Morning Session - Jeff Coady (
PPT
)
June 5th Luncheon Session - Victor Armstrong (
PPT
)
June 6th Morning Session - Kathryn Whittington (
PPT
)
June 6th Luncheon Session - Maureen O'Brien (
PPT
)
Breakout Sessions:
June 5th - 11:15 AM - 12:15 PM
A1. Recovery Panel – No handouts
A2. Aligning Mental Health in Today's Businesses! (
PPT
)
A3. SUD/OUD in Ohio FQHC's (
PPT
)
A4. Camp FUN! Hancock County's Approach to Creating Connections for Youth Impacted by Addiction (
PPT
)
A5. Pandemic Impact: Picking up the Pieces (
PPT
)
A6. The Language of Recovery (
PPT
)
A7. K9s in Recovery – No handouts
A8. Photovoice: A Participatory Approach to Engage the Voices of People with Lived Experience (
PPT
)
June 5th - 1:45 PM - 3:15 PM
B1. New Tools: A Closer Look at Medical, Virtual and Systems Innovations that Can Improve Criminal Justice Outcomes (
PPT
)
B2. Finding Recovery: A Partnership to Ensure that a Successful Recovery Journey Is Not Left to Chance (
PPT
)
B3. Complex Trauma: Brain, Mind and Addiction (
PPT
)
B4. Collecting and Reporting on Social Determinants of Health for Better Outcomes (
PPT
)
B5. Faith and Resiliency (
PPT
)
B6. Exploring Overdose Incidents in Cuyahoga County via Geospatial Data and Individual Perspectives (
PPT
)
B7. Hamilton County Public Health Overdose Fatality Review Revamped (
PPT
)
B8. Embracing Patient Experience to Transform Practice (
PPT
)
June 5th - 3:30 PM - 5:00 PM
C1. Using a Strengths-Based Framework to Enhance Community Engagement (
handout
,
handout
)
C2. Diverse Needs Among the Hispanic, Latino/Latina, Latinx Community (
PPT
)
C3. Innovative Peer-Based Solutions to Current Addiction Crisis (
PPT
)
C4. Building a Collaborative Infrastructure for Medication Assisted Treatment (MAT) in Primary Care (
PPT
)
C5. OH-HAMP: Treatment of Hepatitis C by Primary Care Providers (
PPT
)
C6. Why Have a Veterans Treatment Court? (
PPT
)
C7. Community Health Coordinator Pilot Project (
PPT
)
C8. Health Equity in Action (
PPT
)
June 6th - 10:45 AM - 11:45 AM
D1. Applying Augmented Intelligence to Workforce Challenges and Care Delivery (
PPT
)
D2. Management of Substance Use Disorder Heart Infections in Cardiovascular Patients (
PPT
)
D3. Paw-Some Reading Club and Other Creative Prevention (
PPT
)
D4. Creating a Public Awareness Campaign to Address Substance Use Disorders, Prevention, Treatment, Stigma, Overdose Reduction, and Recovery (
PPT
)
D5. Epidemiological Updates from the Ohio Substance Abuse Monitoring Network (
PPT
)
D6. Pathway to Recovery - Jail Programing (
PPT
)
D7. Addressing Cognitive Impairment in Treatment (
PPT
)
D8. Recovery Friendly Workplace Workshop (
PPT
)
June 6th - 1:15 PM - 2:45 PM
E1. Supportive Housing: Promoting Recovery, Reducing Crime (
PPT
)
E2. Whole Person Care: How Integrating SDOH Results in Sustained Client Outcomes and Better Payor Negotiations (
PPT
)
E3. The Transformational Campus Model/Therapeutic Community for Recovery Success (
PPT
)
E4. Coming to the Streets of Ohio: The Newest Illicits (
PPT
)
E5. Challenges of the New Age Synthetic Drugs Including Crystal Methamphetamines throughout the Continuum of Care (
PPT
,
handout
)
E6. Gambling and Lethality: Why Ask? (
PPT
)
E7. Innovative Resources for Pregnant or Recently Pregnant Individuals with Opioid Use Disorder: The Healthy Tomorrow App Initiative (
PPT
,
handout
,
handout
)
E8. The Opiate Epidemic - What's Grief Got to do With It? (
PPT
,
handout
,
handout
)
June 6th - 3:00 PM - 4:30 PM
F1. Developing Cultural & Clinical Competencies for Transgender & Gender-Diverse People with Substance Use or Misuse (
PPT
)
F2. Recovery Supports and Tools for Families Suffering from a Loved One's Addiction (
PPT
)
F3. Using Design Thinking and Data to Solve Community Behavioral Health Challenges (
PPT
)
F4. Developing Nurturing Fathers Who Are in Recovery (
PPT
)
F5. The Role of Peer Support in Engaging and Supporting Families Affected by Substance Use Disorder and Child Maltreatment (
PPT
)
F6. Mobile Harm Reduction Services: Lessons Learned by Hamilton County Public Health (
PPT
)
F7. Sports Betting: The New Frontier of Gambling in Ohio (
PPT
)
F8. Opioid Litigation Settlement Update –
coming soon