Health Equity
Health Equity, Diversity, and Inclusion
The following resources have been carefully curated by OACBHA's Health Equity, Diversity, and Inclusion Council to help explain the importance of racial and ethnic inclusivity. Please use and share the resources below as you think about the ways that communities of color interact with the behavioral health system and the disparities that still exist in your own communities, professions, and structural systems.
OACBHA's Declaration: Racism is a Public Health Crisis
Health Equity, Diversity, and Inclusion: Year in Review
Questions about OACBHA's Health Equity, Diversity, and Inclusion Council?
Please reach out to Fonda Freeman, Associate CEO (ffreeman@oacbha.org) or call (614)-224-1111.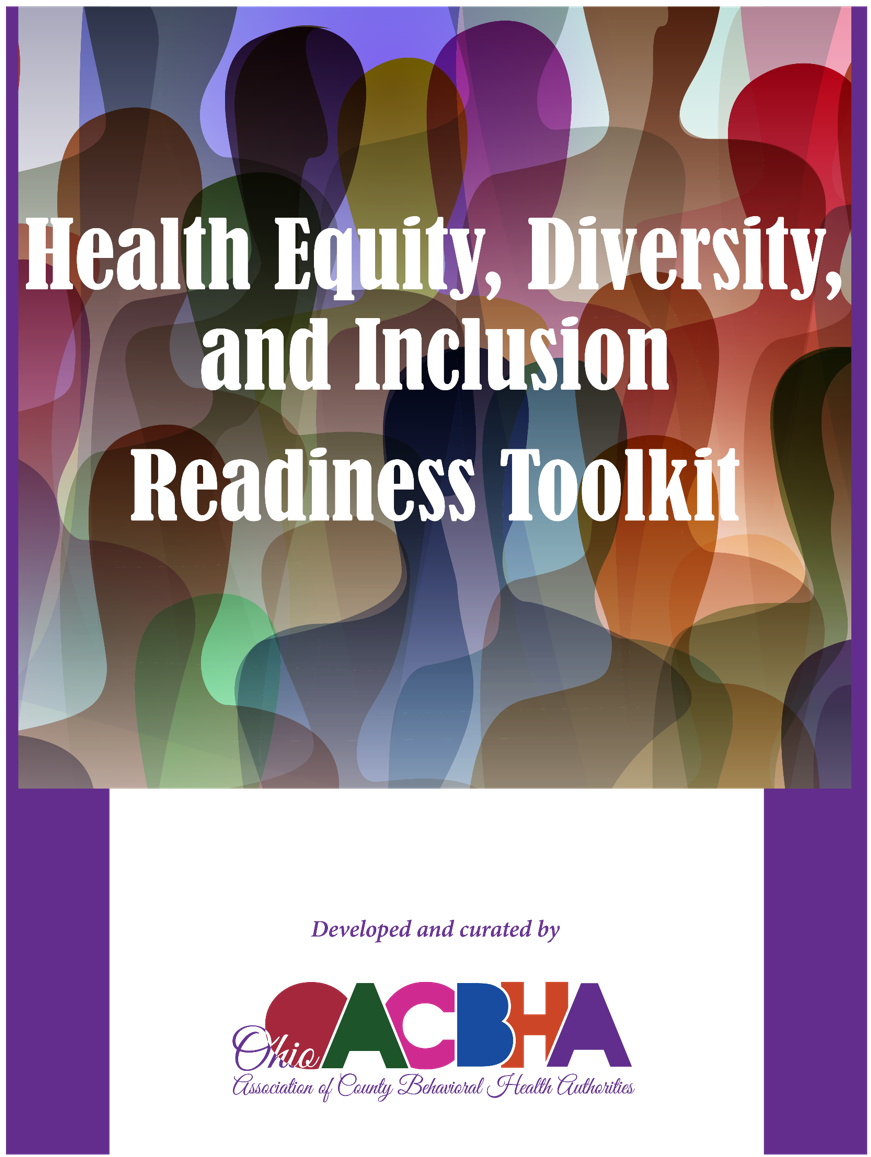 Click here to access the accompanying workbook
Equity Grounded Leadership Fellows Program
Through support from the Ohio Department of Mental Health & Addiction Services, in collaboration with the College of Behavioral Health Leadership, members of OACBHA have been able to participate in the first cohort of this new program that shifts the focus of cross-sector behavioral health leaders to intersectionality, equity, and anti-racism for behavioral health systems transformation. Click here to meet the fellows and learn more about the program.
OACBHA Health Equity related Behavioral Health One-Pagers
Health Equity, Diversity, and Inclusion Council Members
Chair, Helen Jones-Kelley, Executive Director, Montgomery County ADAMHS

John Aller, Executive Director, Stark County MHAR

Malaika Brewer, Health Equity & Cultural Competency Administrator, OhioMHAS

Jamie Carmichael, Chief Health Opportunity Advisor, Ohio Department of Health

Alisa Clark, Assistant Director, OhioMHAS

Erika Clark Jones, Executive Director, The ADAMH Board of Franklin County

Tony Coder, Executive Director, Ohio Suicide Prevention Foundation

Tammie Colon, Executive Director, MHRSB of Allen, Auglaize & Hardin Counties

Misty Cromwell, Executive Director, Muskingum Area Board of MHRS

Tracy Maxwell Heard, Executive Director, Multiethnic Advocates for Cultural Competence

Joseph Hill, Bureau Chief, OhioMHAS

State Rep. Dontavius J. Jarrells (D-Columbus), District 25, Ohio House of Representatives

Karen Scherra, Executive Director, Clermont County MHRB

Scott Sylak, Executive Director, MHRSB of Lucas County

Marti Taylor, President and CEO, OneFifteen

Kate Tullio, Director, Health Equity, CareSource

Aimee Wade, Executive Director, County of Summit ADM Board

Juliet Dorris-Williams, Executive Director, The Peer Center

Deanna Vietz, Executive Director, Brown County Board of MHAS