2020 Virtual Recovery Series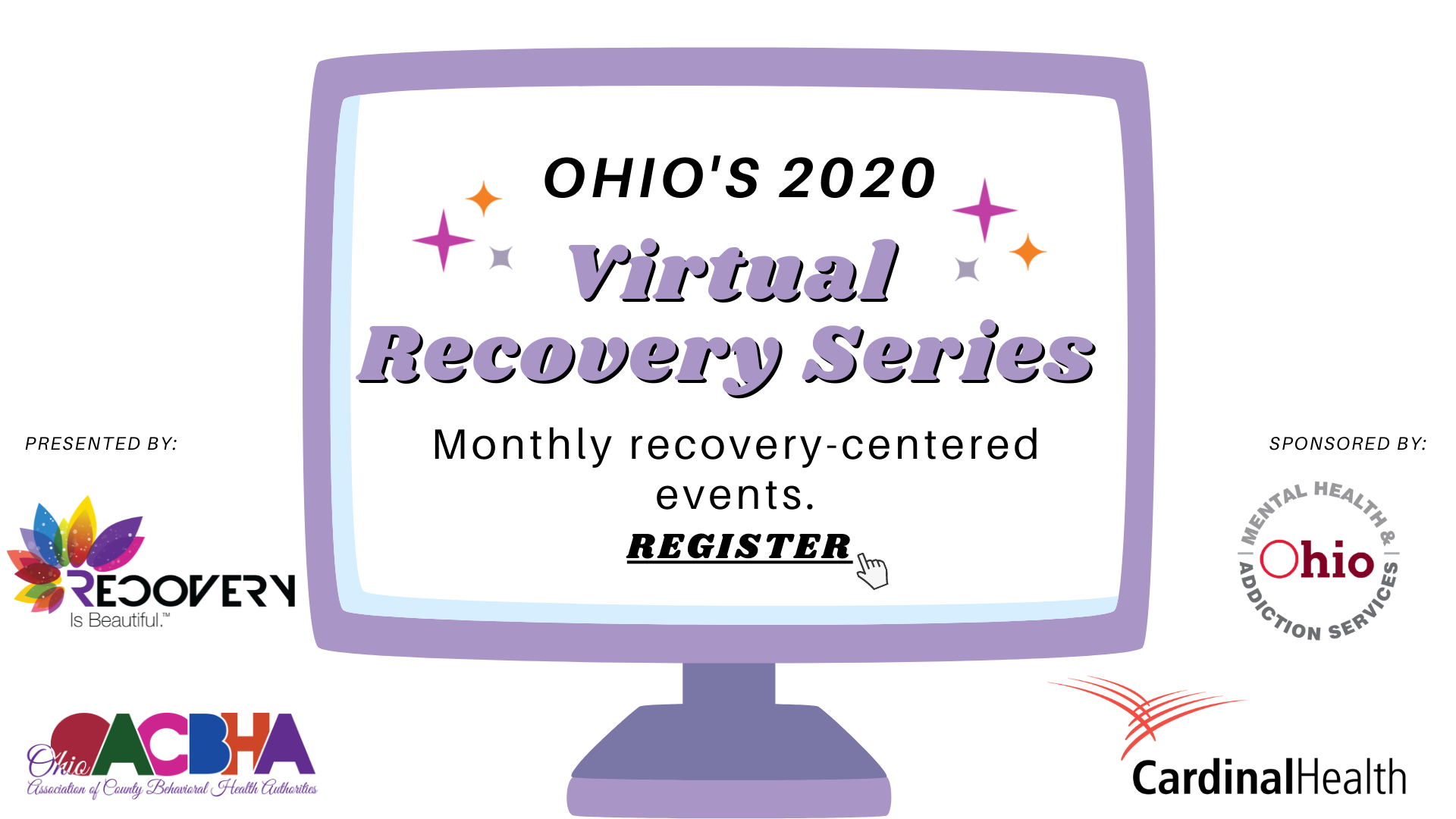 The Ohio Association of County Behavioral Health Authorities will host its first Virtual Recovery Series, in place of our annual Recovery Conference, beginning October 27, 2020. Sponsored by the Ohio Department of Mental Health and Addiction Services and The Cardinal Health Foundation, the series will highlight important issues related to recovery from both mental illness and substance use disorder and provide opportunities for learning and connection for those in recovery, their loved ones, and behavioral health professionals.
May 20, 2021 | 3:00 - 4:45 PM |
The last event in Ohio's 2020 Virtual Recovery Series will highlight the prevalence of substance use disorder and mental illness in the service industry. Service industry culture presents unique challenges for employees in recovery. Andy Smith will share his journey to recovery, the supports that he and his colleagues lean on to maintain recovery, and what strategies have helped him be successful in his recovery through the unknowns caused by the pandemic.
Andy Smith has worked in Columbus Ohio restaurants for 20+ years as a server, bartender, bar manager and general manager. Andy was the General Manager of The Sycamore in German Village pre-pandemic and is currently a bartender at Harvest in The Brewery District. Andy has been sober since 4/7/2011. In September of 2019 Andy founded the Columbus Chapter of Ben's Friends, a restaurant sobriety support group based out of Charleston, South Carolina. In March 2020 Ben's Friends went wholly online and currently hosts 20 meetings a week. Andy recently earned a chemical dependency counselor certificate and is founding a restaurant sobriety consulting firm- Sobriety, Shaken.
March 16, 2021 | 10:00 - 11:45 AM | Event Video
Aimee Wissman is a visual artist, activist, culture changer and the founder of the Returning Artists Guild, a network of currently and formerly incarcerated artists. Aimee works as an arts administrator by day, is a student by night, and an artist all the time. Her work deals with the impacts and implications of incarceration, addiction, and societal infrastructure through material exploration and community action. Aimee will walk participants through her journey of using art to heal from her past traumas and addiction. She will also lead short interactive exercises to demonstrate how art can be used every day to improve mental wellness and sustain recovery.
You can find Aimee on social media at @aimeeinks and @thereturningartistsguild.
February 16, 2021 | 1:00 - 2:45 PM | Event Video
In this month's presentation, Andre Johnson, President/CEO of the Detroit Recovery Project, will present on what it means to be a person of color in recovery and discuss the cultural considerations that shape the recovery experience for individuals in recovery. As a person in long-term recovery and a professional in the field, Mr. Johnson has played an active role in addressing barriers to recovery in the Detroit community, greater Michigan, and on the national scale.
Andre Johnson is a person in long-term recovery, whose 32 year-long career in the substance abuse field has helped break down barriers to achieving a healthy and productive drug-free lifestyle. As President/CEO of the Detroit Recovery Project, Mr. Johnson oversees a wide spectrum of supports for Detroit's recovery population, including a reintegration program for ex-offenders. He was appointed to the SAMHSA Center for Substance Abuse Treatment (CSAT) National Advisory Council, awarded the Vernon Johnson Award from Faces and Voices of Recovery in 2013, and named a Champion of Change by President Barack Obama in 2016. Mr. Johnson is a trained certified recovery coach. He holds both a Bachelor of Arts and Master of Arts and is currently pursuing his Ph.D. in psychology.
December 15, 2020 | 10:00 - 11:45 AM | Event Video
Have you ever noticed how some people respond to challenges, trials, and trauma in healthy ways, while other people respond to those same challenges, trials, and trauma in rather unhealthy ways? What is the difference? The latest psychological and neuroscience research both point to the same key factor: one's mindsets. In this workshop, we are going to talk about the (1) foundational role our mindsets play in our recovery, and (2) the practices we need to develop to harness the power of mindsets to unlock a healthier mind. In covering this material, we will be especially sensitive to recent challenges we have faced (e.g., COVID-19 pandemic) or may soon face (e.g., difficulties associated with the holiday season).
Ryan Gottfredson, Ph.D. is a mental success coach and cutting-edge leadership consultant, author, trainer, and researcher. He helps improve organizations, leaders, teams, and employees by improving their mindsets. Ryan is currently a leadership and management professor at the Mihaylo College of Business and Economics at California State University-Fullerton (CSUF). He holds a Ph.D. in Organizational Behavior and Human Resources from Indiana University, and a B.A. from Brigham Young University.
Ryan is the author of "Success Mindsets: The Key to Unlocking Greater Success in Your Life, Work, & Leadership," a Wall Street Journal and USA Today Best Seller. He will be joined by an Ohioan in recovery and Director Alisha Nelson of RecoveryOhio.
November 20, 2020 | 10:00 - 11:45 AM | Event Video
Chief Warrant Officer 4 Clifford W. Bauman is an internationally known motivational speaker talking about Post-Traumatic Stress Disorder (PTSD), mental health and suicide. As a survivor of an attempted suicide he realizes the importance of getting counseling and having a strong support structure. CW4 Bauman will discuss his battle with PTSD and how getting help made him a stronger man and soldier. He will highlight the importance of normalizing mental health treatment for veterans and those in active duty.
This presentation also featured Richard Casper, Co-Founder and Executive Director for Creativets. CreatiVets' goal is to offer opportunities for relief and healing for the men and women who have sacrificed so much for our country. Richard will discuss the various forms of art, including songwriting, visual arts, music, and creative writing, Creativets uses to help disabled veterans cope with service-related trauma (i.e., post-traumatic stress, or PTS) by fostering self-expression in a way that allows them to transform their stories of trauma and struggle into an art form that can inspire and motivate continued healing.
October 27, 2020 | 2:00 - 3:45 PM | Event Video
Wendy Adamson is a sober woman, with over two decades of experience in the field of mental health and substance abuse treatment. Currently, Wendy works with adolescents who are suffering from mental health issues, at an inpatient treatment facility in Los Angeles. She also oversees business development for her son's nonprofit Hav A Sol, an organization that has donated more than 25,000 pairs of shoes to at-risk youth and other marginalized groups. In her recent memoir,
Mother Load
, Wendy recounts her own struggles with addiction and the long arduous journey of healing and repair within her family as a result of her getting sober.
Wendy will share her journey from addiction to recovery, and the ways her personal experiences have allowed her to help others struggling with mental illness and addiction. The event will also feature an Ohioan in recovery, who has offered to share their personal recovery story.
Questions?
Contact Michaella Radich at mradich@oacbha.org