COUNTY BOARD DIRECTORY
(spreadsheet)
COUNTY BOARD DIRECTORY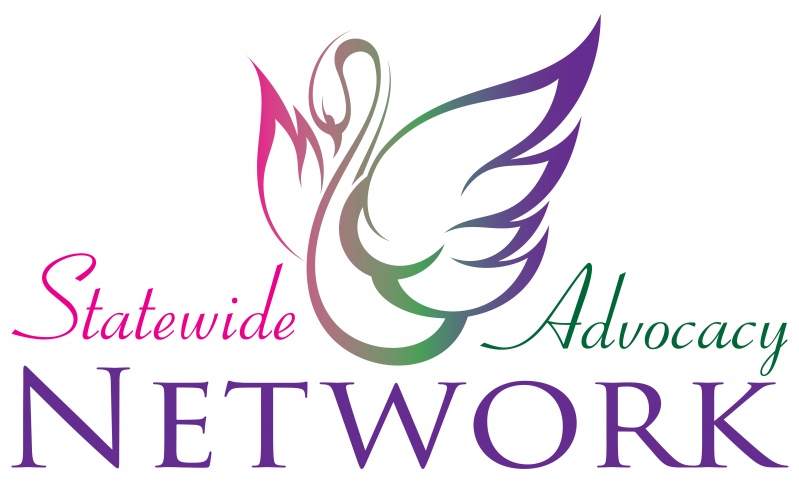 STRENGTHENING OHIO'S PEER SUPPORT / CONSUMER-OPERATED SERVICES

"Recovery is a multi-faceted concept based on 10 fundamental elements and guiding principles, including:
…Peer Support: The invaluable role of mutual support wherein consumers encourage other consumers in Recovery while providing a sense of belongingness, supportive relationships, valued roles and community is recognized and promoted." --National Consensus Conference on Mental Health Recovery


Overview
The Ohio Association of County Behavioral Health Authorities (OACBHA) has been working to move Ohio's local communities forward as Recovery-Oriented Systems of Care (ROSC). The first major principle of the working the ROSC BluePrint is focus on clients and families, and OACBHA is invested, as is the Ohio Department of Mental Health and Addiction Services (OhioMHAS), in nurturing the peer movement in Ohio that utilizes "lived experience" in helping consumers achieve and sustain recovery. Toward this end, OACBHA has partnered with OhioMHAS, thanks to a Statewide Advocacy Network Grant, to make available tools, resources, and trainings to strengthen Ohio's peer support/consumer-operated services network. Click here to view the OhioMHAS peer support page.

Our ultimate goal with the grant is to support the development of a stronger Statewide Advocacy Network (SWAN) of Peer Support/Consumer Operated Services that builds upon existing tools and expertise with specific focus on strengthening their governing boards and their advocacy efforts.* To help guide the work of the grant, OACBHA has enlisted members to join a PS/COS Advisory Committee.

*It is important to assure Peer Support and Consumer-Operated Services providers that through this one-year grant, OACBHA plans to function as a catalyst for establishing and developing COS's in Ohio; OACBHA does not intend to "own" this project or process long-term.



SWAN REGIONAL TRAININGS


The Ohio Association of County Behavioral Health Authorities in partnership with the Ohio Department of Mental Health and Addiction Services is hosting a training for peer support organizations!
This training is free, and will offer education and information on topics including: board governance, funding sources and sustainability, self-advocacy, networking, and round table discussion. Continuing education will be available for certified peer supporters, and CFPT Funds will be available to reimburse travel expenses beyond 50 miles. Lunch will be provided for trainees.
To register for these trainings, please email Cody Williams at cwilliams@oacbha.org or call him at (614) 224-1111. If you are unable to attend a training in your region, you may attend another region's training.
The training will be held from 10:00 a.m. until 3:00 p.m. at the following dates and locations:

Southeast Ohio- Appalachia Region-Tuesday April 18, 2017 10:00 am – 3:00 pm
Zane State/Ohio University Campus Center
1555 Newark Road
Zanesville, OH 43701


Southwest Ohio- Summit Region- Friday April 21, 2017 10:00 am – 3:00 pm
Butler County MHARS Board
5963 Boymel Avenue
Fairfield, OH 45014


Northwest Ohio- Northwest Region- Monday April 24, 2017 10:00 am – 3:00 pm
Wood County Educational Service Center
1867 Research Drive
Bowling Green, OH 43402


Northeast Ohio- Heartland Region- Friday April 28, 2017 10:00 am – 3:00 pm
First Christian Church
6900 Market Avenue
Canton, OH 44721


Central Ohio- Twin Valley Region- Monday May 1, 2017 10:00 am – 3:00 pm
Twin Valley Behavioral Health
2200 West Broad St.
Columbus, OH 43223




SWAN Resources


Peer Support and Consumer Operated Service Resources

Index of Resource Topics for Peer Support/Consumer Operated Services

Index of Policies and Procedures by Source


SWAN Regional Grantee Map
OhioMHAS has given grants to five regional SWAN grantees in Ohio. These grantees' regions are defined by the OhioMHAS state hospital catchment areas. Each grantee is working to reach out to other consumer-operated service organizations and peer support organizations to help coordinate their efforts and work together to support each other. The grantees and their regions are detailed in the map below. The Northcoast region does not yet have a grantee. These five grantees and a number of other organizations have formed the SWAN Advisory committee. Click here to view a listing of the Advisory Committee.

Click here for a listing of COS and peer support organizations.

Note:This listing may not be fully accurate. If you know of a site that exists but is not on this list, or a site that is on this list that is no longer operational, please contact Cody Williams at

cwilliams@oacbha.org.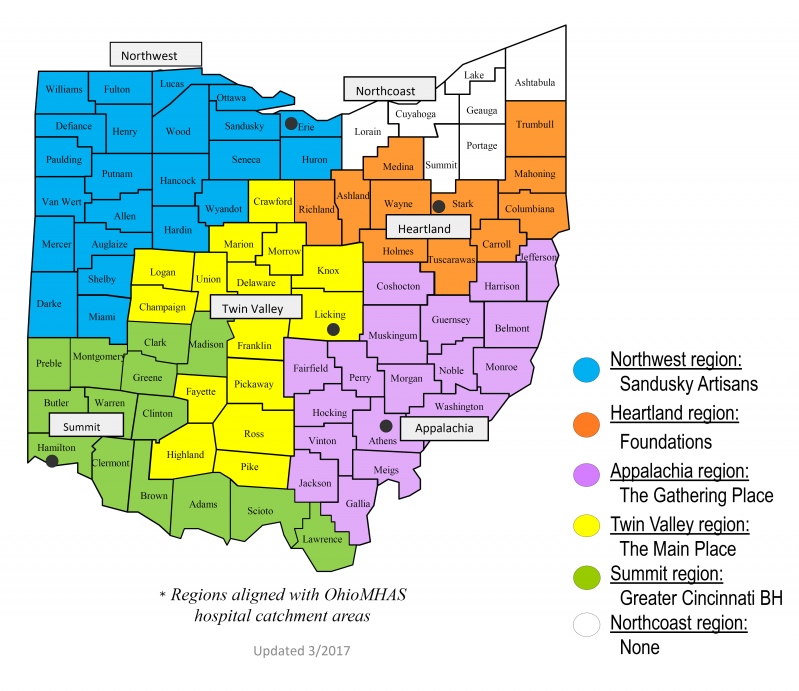 OACBHA Resources