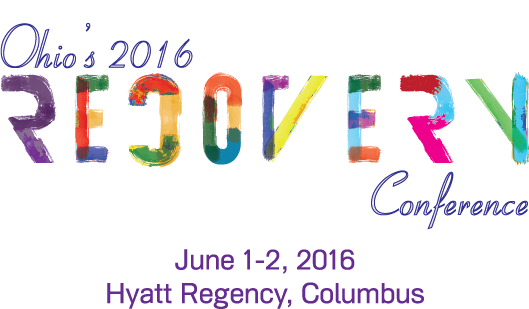 350 North High Street
Columbus, OH 43215
The Ohio Association of County Behavioral Health Authorities, in partnership with the Ohio Department of Mental Health and Addiction Services, hosted Ohio's inaugural recovery conference. This conference offered education to individuals in recovery and family members from throughout Ohio!
The two-day event was held June 1-2, 2016 at the Hyatt Regency in Downtown Columbus, Ohio. On the evening of June 1
st
, attendees had the opportunity to attend a
Celebration of Recovery
, which included dinner, dancing, and other games and activities.
Conference Goals:
Our goals for the conference were as follows:
To celebrate recovery with everyone in attendance;
To learn something new about sustaining and revitalizing your recovery;
To have fun; and
To stay safe.
June 1st Presentations:
04/43. Trauma Informed Care: Creating Environments of Resiliency and Hope (PPT)
06. Housing and Employment Success: It Could Happen to You (PPT)
09. Recovery is Beautiful: Building Recovery-Oriented Systems of Care (PPT)
10. Advocacy and Empowerment: Learning How to Use Your Voice (PPT)
11/27. Bank on It: Intro to Bank Services (PPT) (Handouts)
14/40. Creativity and the Therapeutic Process for Health and Wellness (PPT) (PPT part 2)
15. Living Life as a Masterpiece (PPT)
17. Why Culture Matters in Recovery (PPT)
18/45. Staying the Course, Paying it Forward - A Better Life During Recovery is Possible (PPT) (Handout)
23. A Discussion on Boundaries (PPT)
24. OhioMHAS Peer Recovery Supporter Certification (PPT)
June 2nd Presentations:
28. Parents - Breaking the Cycle (PPT) (Handout) (Handout)
29. Raising Funds and Using Grants for Peer-Run Organizations (PPT)
30. Why Care about Problem Gambling? (PPT)
34. Building Positive Community Relationships (PPT)
35. Promotion of Recovery: A Community Approach to Prevention with the Media (PPT)
36. Utilizing Technology to Support Recovery (PPT)
44. Your Health Coverage Rights (PPT)
47. How to Become a Peer Supporter (PPT)
51. ATOD-Free: Helping People in Recovery Quit Tobacco (PPT)
52. Practical Benefit Supports for Individuals Who Want to Work (PPT) (Handout) (Handout) (Handout)
55. Tenant Orientation - Becoming an Informed Renter (PPT)
56. Meeting the Recovery Needs of LGBT Community (PPT)
57. To Your Good Health: Strategies for Medication Management (PPT)
59. Promoting Suicide as a Public Health Issue (PPT)
61. Managed Care Organizations Working with Peer Supporters (PPT) (Handout)
62. Using Your Advocacy Voice (PPT)
Event Press Release
Conference Partners and Supporters
This conference was provided in partnership with the Ohio Department of Mental Health and Addiction Services and with funding provided by the following organizations.
Margaret Clark Morgan Foundation
Ohio Commission on Minority Health
NAMI Ohio
Disability Rights Ohio
Alkermes
Optum/United Healthcare
Ohio Attorney General Mike DeWine
Janssen
Ohio Recovery Network
Great Lakes Addiction Technology Transfer Center
Huntington
InHealth
A&B Printing
The Columbus Foundation
Ohio's Alcohol, Drug Addiction, and Mental Health Boards
OACBHA sincerely thanks all
Conference Sponsors
and
Supporting Boards
!