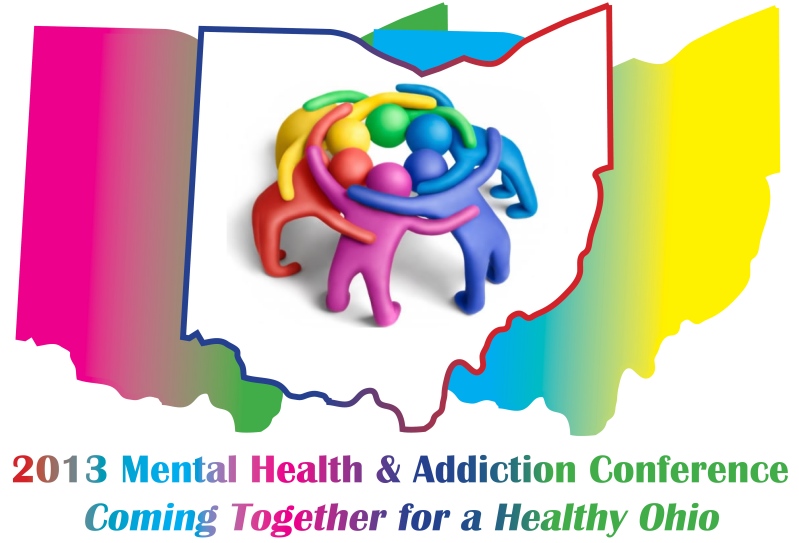 Conference Handouts
Thank you for attending the 2013 Mental Health & Addiction Conference: Coming Together for a Healthy Ohio. The following presentations and handouts were provided by speakers in the pre-conference sessions, general sessions, and breakout sessions. At this time, all continuing education certificates have been emailed to all requested conference attendees. Please contact Alaina Herrel (aherrel@oacbha.org or 614-224-1111) with questions about conference materials.
Pre-Conference Workshops - December 16, 2013:
Addressing Stigma Through Consumer and Community Involvement
-
Ohio MIND Movement Overview
-
Working with the Media...Developing Partnerships to Combat Stigma!
-
Recovery Starts Here Awareness Campaign
-
Stop the Judgment Start the Healing
-
MHAFC Anti-Stigma Campaign
Prevention: Science to Practice
-
Prevention Science to Practice - Building a Foundation on Evidence
-
Prevention, Promotion, and Treatment: A Public Health Approach
Mental Health and Addiction Services Forensic and Criminal Justice Workshop
-
A Framework for Reducing Recidivism and Promoting Recovery
-
2013 Legal Update
Session A:
Using Sequential Intercept Mapping for Community Action Planning
Session B:
HCR-20 Version 3 Update
General Session - December 17, 2013
Practical Ethical Decision Making
- Dr. Michael Gillette
Breakout Sessions - December 17, 2013
Session 1 -
Integrating the Arts and Mental Health Recovery in Your Community
Session 2 -
Implementing a Comprehensive Drug Free Workforce Plan
Session 3 -
Recovery Requires a Community
Session 4 -
Resiliency: Empowering Children, Youth, and Families to Meet Life's Challenges
Session 5 -
Suicide: An Epidemiology
Session 6 -
SB7 - The Deputy Suzanne Hopper Act
Session 8 -
Ohio's Medicaid Health Homes for Individuals with SPMI
Session 10 - Drug Courts: Meeting the Opiate and Heroin Challenge -
Hall
,
Raffaele
,
Starr/Knudsen
Session 15 - Understanding the Strengths and Challenges of Military Life -
Herbst
,
Digiannantoni
Session 16 -
Trauma Informed Care for Patients with Intellectual Disability
Session 17 and 28 -
The Ethics of Scarcity: Allocating Resources in an Environment of Scarcity
Session 18 and 29 -
Ohio Youth in the Adult Criminal Justice System: A Changing Landscape
Session 19 -
Thinking for a Change
Session 20 -
The Adverse Childhood Experiences Study: Implications for Social Service Agency Practice
Session 21 -
Principles of Effective Intervention with High Risk Offenders
Session 22 -
Helping Individuals Obtain Gainful Employment in Montgomery County
Session 23 -
Creating Bully-Free Schools: A Focus on School Climate
Session 25 -
The Chardon High School Shooting - From Crisis to Recovery
Session 26 -
Recovery Housing in the State of Ohio: Findings and Recommendations from an Environmental Scan
Session 27 -
Motivational Interviewing: Building a Sustainable Practice
Session 30 - Expanding Specialized Dockets for the Good of the People -
Forensic Cases in Muni Court
,
Veteran's Docket
Session 31 -
Principles of Evidence Based Supported Employment
Session 32 -
A Safe Bet: OhioMHAS Problem Gambling Service System
Session 33 -
Supporting Recovery through Peer-to-Peer Services
Session 34 -
Heroin and Opiate Interdiction